Compressport Aero socks Running Planet Geneva
Multisports socks Compressport Aero.
COMPRESSPORT AERO SOCKS

The brand new Aero Sock takes multisport performance to a whole new level with air-defying speed.
Tested and optimised in the wind tunnel, the front fabric features structured lines to increase boundary layer (surface) turbulation and save over a minute over a 180km Ironman bike ride. The new Aero.dots build a line from the malleolus to the seam, directing the airflow to reduce turbulence at the rear of the sock, decrease drag and save a few more watts.
The foot structure follows the design of the Ultralight running sock, with featherweight, sweat-wicking mesh for optimal ventilation and thermoregulation in hot conditions. The reviewed, wider toe box brings more comfort and improved proprioception to your run while a special knit around the heel offers gentle support as the pace ramps up. A light arch support prevents the fabric from twisting and irritating, with extra terry padding over the big toe to save you from blackened nails and bruising.
Underfoot, a clever pattern of 50% 3D.Dots and 50% Flat.Dots cushions impact and adds grip in the shoe. It also provides gentle micro stimulation to increase venous return and delay fatigue, while Ventilation is also enhanced as air circulates between the dots. At the rear of the sock, ultralight mesh takes care of thermoregulation without adding weight and a full Achilles stripe in dot technology offers reassuring support in all disciplines.
The cut is higher than our trail and running models for optimal aerodynamic performance whilst remaining within UCI limits. Silicone inserts around the seam prevent the material from sliding down as you switch from the bike to the run.
The fastest sock in the bunch, the revolutionary Aero Sock is set to be your new choice, from your local tri to the lava fields of Kona.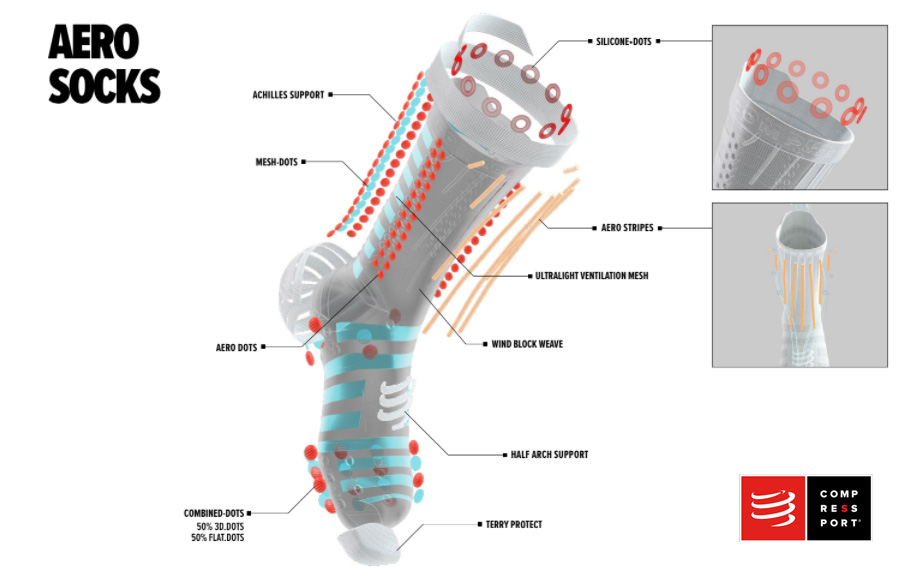 Find the products Compressport on sale in Running Planet in Geneva.
More information at www.runningplanetgeneve.ch